Workplace Hazardous Materials Information System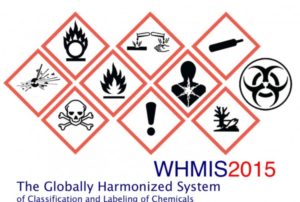 The Workplace Hazardous Materials Information System (WHMIS) is Canada's national hazard communication standard. The key elements of the system are hazard classification, cautionary labeling of containers, the provision of (material) safety data sheets ((M)SDSs), and worker education and training programs.
The Workplace Hazardous Materials Information System has aligned with the Globally Harmonized System of Classification and Labelling of Chemicals (GHS).
GHS is a worldwide system with a common set of rules for classifying hazardous products, common rules for labels, and a standard format for safety data sheets (SDSs). As of December 1, 2018, there must be WHMIS 2015 labels and safety data sheets for all hazardous products in the workplace.
AI Forklift Training familiarizes you with the WHMIS 2015 system and how it is used in workplaces. Learning about WHMIS 2015 is part of the knowledge that you need to protect yourself and your co-workers from hazardous products.
For more information, you can visit whmis.org  by province and territory and the implementation of the new Federal WHMIS2015 requirements at WHMIS.gc.ca
What Is A WHMIS Certificate?
A certificate is issued when you complete the Workplace Hazardous Materials Information System training. Employers need to make sure that every employee is properly trained on how to handle dangerous goods in their workplace safely.
Although you do need to have a certificate if you are handling dangerous goods, all employers that have dangerous or hazardous materials in the workplace want you to have a certificate to show that you understand the importance of hazardous materials and that you have been trained properly in how to handle them.
Who Needs Training In Workplace Hazardous Information Systems?
Anybody in the workplace that uses dangerous materials needs to be trained. This would include employees as well as supervisors to ensure they understand how to handle dangerous goods in the workplace.
The Workplace Hazardous Materials Information System are law, created in 1988 to:
give employers and workers information about the hazardous products or chemicals they may be exposed to at work
reduce workplace injuries and illnesses
Ontario's Workplace Hazardous Information System legislation applies to all workplaces except farms. Under WHMIS information on hazardous products must be delivered in three ways:
labels on the containers of hazardous products
safety data sheets, in addition to the label, with detailed hazard and precautionary information
worker education programs
classify hazardous products into two broad hazard groups, CCOHS physical hazards, and health hazards
Suppliers of hazardous products must label their products and give safety data sheets before they sell or import them. Employers must pass the information about workplace hazardous products on to their employees and provide worker education programs.
Key Points You Will Learn Taking A Workplace Hazardous Information System Course
Explain what workplace hazardous materials information system means and how it applies to you at work
Describe the workplace hazardous information system 2015 Groups, Classes, and Categories
Identify  pictograms
Read and apply the information on a workplace hazardous information system label
Use Safety Data Sheet (SDS)
Explain How you can protect yourself from hazards at work
Describe what you should do in an emergency involving hazardous products
Your WHMIS Certificate Will Give You The Ability To
Understand the roles and responsibilities that suppliers, employers, and workers have
Understand the difference between the two main label types used in workplace hazardous information system
Identify the hazards represented by each hazard class
Find additional information about hazards and protective measures on SDSs
Does WHMIS Training Expire?
Currently, nothing in the Canadian legislation clearly says how often a worker needs to take training. There is also nothing stating how long the training lasts before it expires.
Because there is no expiry date for training it doesn't mean that workers only need to take training once. Re-training should be done once a year to stay up to date with current legislation.
Training should be taken very seriously by employers and employees and training should only be provided by qualified trainers like the ones at AI Forklift Training Ltd.