Walkie Stacker Training In Toronto
Walkie stacker license training provides the participants with the skill and knowledge related to powered equipment as defined by AS 2359.2. Having your employees professionally trained operating specific equipment at the workplace keeps everybody safe including pedestrians and operators. The walkie-stacker lift truck operator training course is designed to provide warehouse operators with a solid foundation. The following link is from the Standards Council of Canada to provide you with more information. 
Walkie stackers meet the criteria as a powered industrial truck. These are some of the main standards concerning powered industrial truck safety. Many provinces have additional
standards, as do some industries. But it's your responsibility to know all federal, local, and company rules that apply to your job site.
What Is A Walkie Stacker
A walkie-stacker is a piece of equipment used in a warehouse setting to move and lift materials. These machines are able to lift loads and place them in racking or stack them on top of other materials.
A walkie stacker is a walk-behind pallet truck with a mast for lifting pallets to heights. There are many different types of walkie-stackers that are suited to different applications.
Walkie stackers can be either powered or manual. They are used for transporting & lifting pallets where a forklift is too large, in small warehouses and specialized warehousing sections, or as a backup for more expensive forklifts.
These machines are perfect for small-capacity items transported around a warehouse or any premises for less than 5 hours a day. They are more suited to indoor use due to their small wheels and it is recommended that they are only used on flat concrete floors, but they can be ordered from the factory with specialized requirements such as larger wheels
Can Anybody Use A Walkie Stacker
Only trained and authorized personnel are allowed to operate a walkie-stacker. The Canadian Standards Association (CSA) Standard B335-04 for Industrial Lift Truck Operator Training defines a lift truck operator as a person who is trained in accordance with the standard and authorized by the person's employer to be in control of the lift truck. Read the following link to get more information regarding CSA Standards.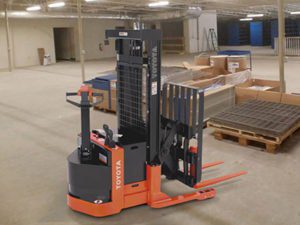 Do You Need A Walkie Stacker License?
Many users of this equipment forget that they need to have a certification in order to operate this machine. Yes, you need a license for a walkie-stacker as it falls on the class III type of powered industrial truck.
Does A Walkie Stacker License expire?
Walkie stacker licenses are valid for 3 years. After three years, you will need theory and practical reassessment in order to get recertified and be able to continue to operate a forklift in compliance with Ontario's safety regulations.
Lift truck Safety should be taken very seriously as a reach truck is a heavy and powerful machine capable of lifting extremely heavy loads to great heights. Having the proper training ensures the operator is a compliant and knowledgeable forklift operator and abides by all safety regulations set by the MOL (Ministry of Labor) and the Canadian Safety association.
How Long Does It Take to Obtain A license?
The Training Course is 3-4 hours depending on the number of participants. In-class theory with a practical driving assessment in their own warehouse setting.
After completing the training course, each operator's theory knowledge will be assessed using a multiple-choice test and practical evaluation of their ability to operate a lift truck in a safe and efficient manner. Upon successful completion of the evaluation, each operator will receive a wallet-size ID forklift license and Certificate of Achievement.
Training should only be conducted by an authorized trainer who has been trained in accordance with government regulations. Having a competent trainer will ensure that the training provided will meet or exceed training expectations. AI Forklift Training Ltd is your number 1 choice for all your training needs.